Welcome to Friday\'s AM update.
Our technique guru and coaching superstar Jem Hall has released the next update in his \'Moves That Matter\' series. Up for dissection in this edition is the one-handed top turn. If you\'d like to polish up your technique, or even give these a go for the first time, make sure you head over to our sister site Boards to get the lowdown from Mr.Hall.
Graham Ezzy has published the final write-up of his trip to Ireland. Whilst he didn\'t score amazing conditions, Graham still had an amazing time on the Emerald Isle and waxes lyrical about it over on Surf-Matic.com.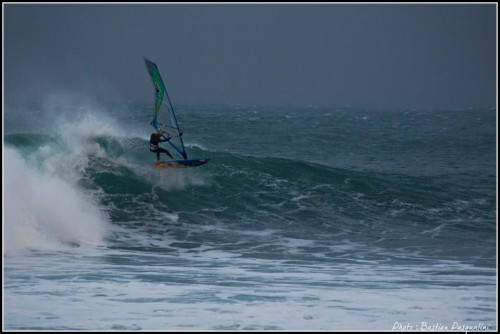 Maui Fin Company are happy to announce some new riders for their team. First up is Russian freestyle/wave shredder Olya Raskina, joining Globalshots\' Jay Haysey on the excellent MFC fins for 2012. Check out the extensive fin range HERE.
Italian Hot Sails Maui rider Fede La Croce scored some great wind and waves over the weekend. Stoked to be back on the water after a dismal winter, check out the full report with some great pics on Hot Sails Tales.
Always keen to help windsurfing grow, Matt Pritchard is getting the next generation of windsurfers ready for action… Check out Matt taking his friend\'s son Ben out for a cruise around on Maui, epic action from the 8-year old! Matt promises to do some forward loops next year, so keep an eye out…
Robin Hood Watersports, one of the UK\'s leading windsurfing shops, will be holding a demo weekend at Fraisthorpe beach. FREE to everyone, the event on 21/22nd April will have kit from all the top brands available to test. With camping, BBQ\'s and a special guest appearance by Nik Baker with all the latest North and Fanatic toys to play with, the event is sure to be a great one. Find out more on RoHo.co.uk
The Bering Straits, between Alaska and Siberia, have long proven themselves as treacherous waters for windsurfers. Arnaud de Rosnay set the crossing time record in 1979 and now two French windsurfers are trying to beat that time. Alain Gabet and Michel Ouallet will attempt to make the freezing crossing this summer. Check out the air testing gear and training at altitude in the video below (French language) and find out more about the crossing on the website.
That\'s all the news for the AM update, check back later for some hot video action in the PM update.